'I can be changed by what happens to me... I refuse to be reduced by it...'
~Maya Angelou
Embracing Wisdom is home for the programs and services offered by Leonie Wolff.
A new program from Embracing Wisdom
The Way Within: A Journey Through The Heart and Spirit of Being a Nurse
(Based on: The Way Within: Walking The Three Pathways of Grief)
Burnout, staff shortages and facing unwanted change are just a few of the challenges we face as a nurse. Nursing is a profession where everyday, in variable and complex ways, we are in direct contact with people suffering.
We did not stay at home the last 3 years and it has been a struggle. As our employers and the world are moving past the covid pandemic, we still carry the increasingly hidden pain from what we experienced.
The health care system we work-in is cracking. The ultimate problem is that this 'system' is full of good people who are directly impacted by this. While we seemingly have little or no control to change the environment where we work... Who-We-Are when we walk into the door is what we can directly shift.
The Way Within: A Journey Through The Heart and Spirit of Being a Nurse… Will help you to recognize, the places you struggle, are rooted in grief. Rooted in the effects of profound loss or unwanted change. Of how your work touches and stirs-up the wounds of a lifetime. And the realization that how you are working today, is a very different reality than you imagined when you first made the decision to become a nurse. These seemingly complex experiences can be distilled into The Three PathWays of Grief and your own unique relationship to them.
The Way Within will help you to reignite your passion and compassion. You will remember and enliven the Heart and Spirit of Being a Nurse... Not just the tasks required in doing the job of nursing. By putting the oxygen mask on ourselves first... We can then best serve our patients and can also be more present with each other. And while this is created from the standpoint of the nurse, everyone working in healthcare can benefit from this program.
The Way Within: A Journey Through The Heart & Spirit of Being a Nurse will be offered in a variety of formats. Watch this space for announcements of when and where. You can also sign up for our mailing list at the bottom of the page or follow Leonie on Facebook or Instagram to see notifications.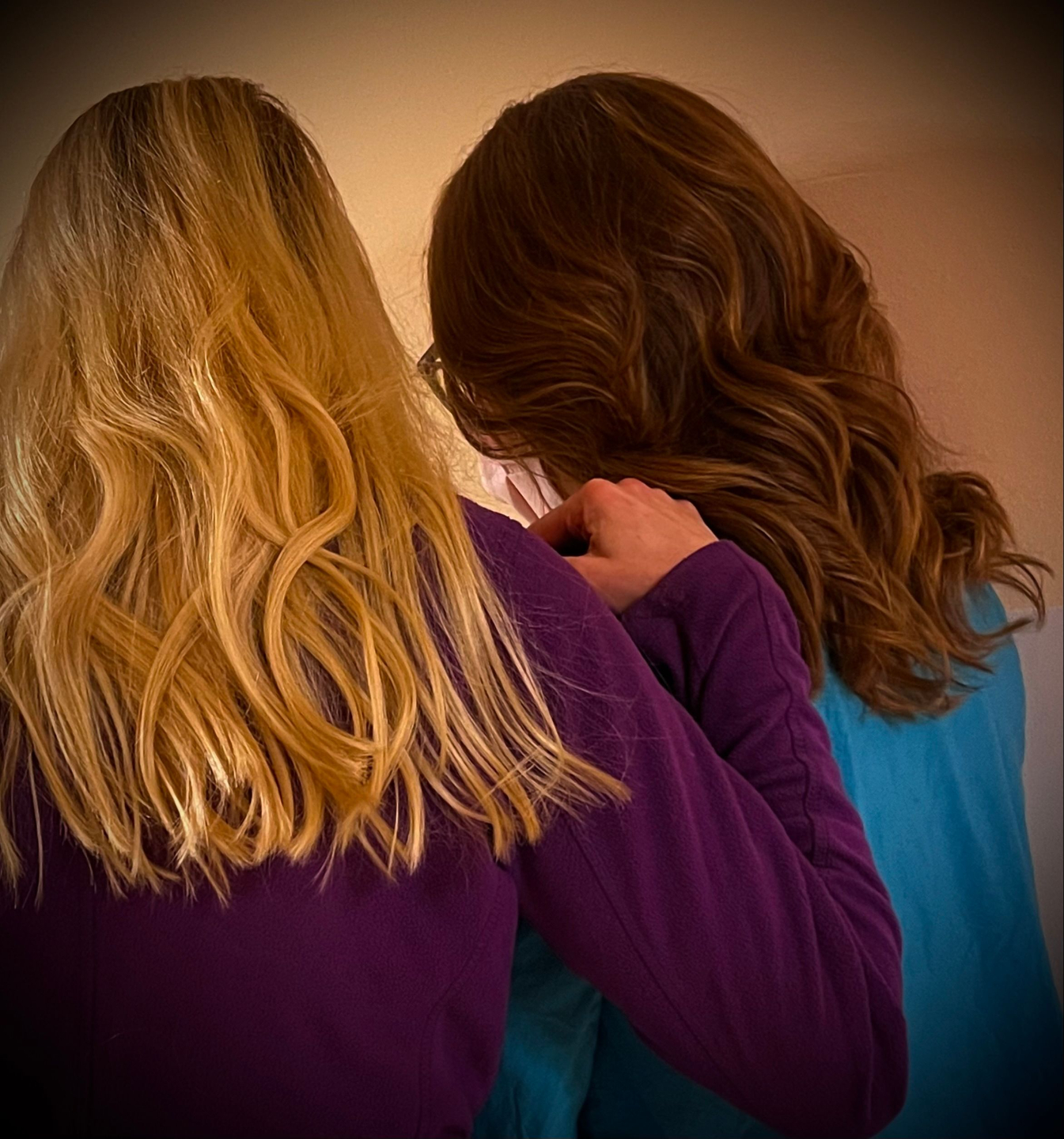 At the Heart of the programs of Embracing Wisdom is recognizing and honoring that you have your own inherent wisdom which has risen from a lifetime of experience:
The paths you have walked, the tables at which you ate, the people you have loved, the people you could no longer love, the classrooms in which you studied, the places you worked, the yearnings that you felt, the graves where you cried...
... By simply being alive and taking the exquisite risk of loving you have:
Lost who or what is achingly beloved and precious to you…Suffered the deep and often enduring pain of being wounded... Yearned for a life not realized and the paths not finished… You have faced the life-altering consequences of difficult and unwelcome change.
While at times you survived, thrived and moved-on... You also know the places in your Heart, Body & Spirit where you feel lost and alone... Unsure of the next step or where to find a bit of secure footing.
A facilitated Journey through the Seven Spirals of Grief and the Three PathWays of Grief will help you to find Your Way and Embrace Your Wisdom
To Remember, Enliven and Experience The Sacred Rhythm of Your Own Magnificent HeartBeat
To Walk...The Way Within
Leonie is available to facilitate
The Way Within
For your group. It can be crafted to the unique focus of grief you are facing.
You can read about her experience in the 'about' section.
Send an email via 'contact' above to begin the conversation.
The Way Within...
Is your personal journey through grief, loss and profound change.
You will explore The Seven Spirals. That rather than stages, grief is a spiraling ebb and flow through seven expressions. Seven experiences. That 'closure' is an illusion while recognition and integration brings you a valuable trail map... A personal and sustainable way-through the difficult places.
You will discover how the Three PathWays of Grief touch all parts of Who-You-Are. Often at the root of where we struggle, grief is hiding. With a deeper understanding of your own personal experience of the Three PathWays, grief itself can be a powerful and insightful ally for living a more vibrant life.
From a deeper understanding of your own unique relationship with grief, you will learn methods to shift unconscious reaction into conscious response. The personal insight gained and your own expression of path finding that you will create from The Way Within will continue to serve you as life unfolds on both the remarkable and the difficult paths.
The Three PathWays of Grief
Today one of the pathways may be more present with you.
You could be feeling like a stranger in a strange land... Or even worse, like a stranger in a familiar land after experiencing a devastating loss or facing a profound and unwanted change.
You could be an exhausted and disillusioned nurse, questioning why you ever entered this profession.
You could be a woman searching for the fire you once had in your Heart & Spirit and confused as to why it's seems dim.
Your struggle, your discomfort is your entry point, yet none of the Three PathWays stands alone, each interacts with and informs the others. Understanding your own unique relationship with grief and loss is at the Heart of The Way Within...
'Where you stumble, there lies your treasure... The very cave you are afraid to enter, turns out to be the source of what you are looking for... The damned thing that was so dreaded... Has become the center.' ~ Joseph Campbell
From: 'Reflections on the Art of Living: A Joseph Campbell Companion' edited by Diane K. Osbon.
Passionate Sadness:
The death of someone or the loss of something deeply precious to you.
It is something that happens to you. It can be sudden and can change your life in devastating ways. Or it can be the long, slow loss or change that chips away at your sense of resilency.
Passionate Sadness can leave you feeling like a stranger in a strange land, facing the chaos of a path with a destination that is unknown.
In the Way Within for Nurses, we also explore this path as: 'Compassionate Sadness'.
Understanding the Seven Spirals will help you to find your way.
Dancing With Shadows:
Shadows are the wounds of a lifetime. Something that was done to you.
We all have them, some small, some quite large. With time wounds can seem 'healed' yet the shadows of their presence remain.
This is a grief that other loss tends to touch. Fresh grief stirs up the old wounds. Understanding our own unique shadow dance can help transform unconscious reaction into conscious response.
The Haunted House:
The haunted house contains all of the dreams, visions and hope for your life, that did not happen. The paths not finished or never walked.
Sometimes this grief is quieter and less obvious. Yet it can remain as a place where our hesitation, inertia and fear live. A place we stumble.
Facing what resides there with recognition and understanding can transform the haunted house into a place of release, integration and inspiration.
A conversation with davidji on his Hay House radio show about The Three PathWays of Grief
(About davidji: www.davidji.com)

From Leonie: I was the first participant of The Way Within.
It was created out of my personal experience of grief and loss, and from weaving into it the work and study of my lifetime.
I am blessed to have beloved and supportive family and friends... Remarkable teachers, collaborators and mentors... And if you are one of the thousands I have sat in circle with as a facilitator or been at your side as you faced the difficult paths... You have touched, informed and inspired me.
For all of this and for all of you... I bow in Gratitude.
Are you ready? Let's walk together for awhile...
Embracing Wisdom
in your inbox:
To be notified when

The Way Within

is published and for announcements of dates for online and in-person events,

sign up below.
Embracing Wisdom will never share your email with ANYONE and you can unsubscribe at any time.